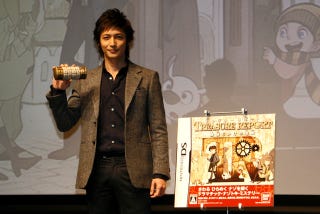 TREASURE REPORT | TOKYO, JAPAN: Waterboys' actor Hiroshi Tamaki appears at a press conference for DS game, Treasure Report. (Photo by Game Watch Impress)
---
These Ladies Go Beyond A Fatal Attraction This week's cosplay round-up is dominated by the ladies, with not one Felicias but two, some Final Fantasy favourites and a pair of Zelda cosplayers.
---
Imagining What Sony's Next Controller (And Its Box) Will Look Like My dork tendencies run a little...stranger than most. While I enjoy looking at things like mock-ups of new control pads, for example, I prefer looking at a mock-up of the packaging for said controller.
---
Is This Game Ripping Off Final Fantasy? Pandora's Tower, an upcoming Nintendo-published role-playing game, looks great. It also looks a lot like Final Fantasy.
---
The iPhone Game You Can Only Play Once One Single Life is an iPhone game you can only play once. Not because it's short, or because it's crap, but because once you play it and die, the application never lets you play it again.
---
Consoles, Your Sucky Insides Are Holding PC Games Back Patrick Bach, from DICE, the developers of the Battlefield series, certainly knows the way to a PC gamer's heart: tell them that, for once, the PC version of a game won't be a crummy port, but will be the glorious, lead platform.
---
Ahoy! It's Monday! It was our turn to be the neighborhood "crossing guard" for the grade schoolers as they crossed the street. Since Mrs. Bashcraft was busy getting the kids ready, I did the honor. I had a little flag and everything. Lots of dads also crossed the street as well, in suits and on their way to the train station. Whereas, I'm at home all day and only wear suits to funerals. I think it really hit me: man, I've got an odd job! Love every minute of it, though. –Brian Ashcraft
---
We like tips!
Got tips for our editors? Want to show the world your latest creation? Ready to anonymously share an unannounced game? Email us at tips@kotaku.com. Or leave us an anonymous voicemail at (612) 568-2581.
Lost in our new layout?
Click here for the Speak Up or Tips forums. Want a more "blog-like" look? Click the button up top next to "Top Stories."
Get more Kotaku!
Want even more Kotaku? Want to know which of your friends read us? "Like" us on Facebook and follow us on Twitter.