Few game reveals are more anticipated a brand-new Legend of Zelda game, but nothing touches the intense reaction Twilight Princess generated at E3 2004.

Elden Ring's Top Five Spells, According To FromSoftWare's Stats
It's common for game companies to stuff their press conferences full of employees. These are the people who are happily clapping for every announcement, big or small. But at Nintendo events, that's not usually the case—the reactions tend to be genuine. And when the first trailer for Twilight Princess was shown, the screams from those in attendance were deafening.
Yes, that actually happened.
G/O Media may get a commission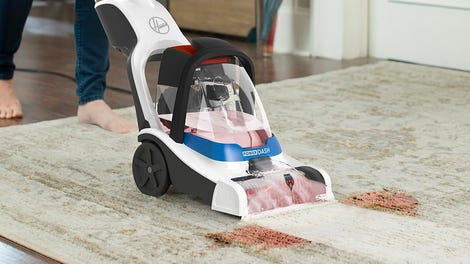 26% Off
Hoover PowerDash Pet Compact Carpet Cleaner
Twilight Princess was developed in reaction to the extremely divisive Wind Waker, a game that's fondly remembered today—but that wasn't always the case. Not everyone thought the cartoonish look was attractive, and to some, it signaled the franchise was moving in the direction of children, not adults. What did adults want? Something "mature," and this led Nintendo to Twilight Princess.
At the end of Nintendo's E3 2004 press conference, Nintendo of America president Reggie Fils-Aime said he'd "like you to step inside one more world for Nintendo GameCube." As his voice trailed, the trailer for Twilight Princess rolled.
Video Credit: ericy0
It wasn't immediately clear this was a Zelda game, either. The trailer was deliberately edited to mask the game's drastic new shift, perhaps a subtle nod to critics who thought Nintendo would never take the series in a direction like this.
And look, I enjoyed Wind Waker when it came out, but I'm willing to admit the idea of a "realistic Zelda" was enough to make the 7-year-old in me freak out.
As a horse gallops across a field, people begin to put things together.
That is not the sound of people politely applauding a new product announcement, that's a group full of Nintendo fans collectively losing their shit.
The most telling reaction is pretty subtle: a guy throwing up the devil horns.
After a few snippets of gameplay, Nintendo had another trick up their sleeve: Shigeru Miyamoto. As the trailer concluded, Miyamoto appeared on stage with a mushroom t-shirt and swinging around a sword and shield. People were in a frenzy.
When's the last time you saw a standing ovation at a press conference?!

One of the most popular myths about this reveal is that people were crying. You'll see this claim made pretty often whenever people talk about this moment, but I haven't found evidence that anybody literally burst into tears.
One of the more endearing memes from Twilight Princess' announcement, however, was the reaction of a few IGN editors. If you were following games coverage in the early 2000s, you were definitely familiar with this photo:

This candid shot of several very bored games writers was taken while Nintendo was chatting up Pac-Man Vs. for the GameCube at E3 2003, one of the company's "big" pieces of news that year. (To be fair, Pac-Man Vs. turned out pretty cool.)
"Clearly, we weren't ready for Nintendo's premature turn to classic and ultimately more casual gaming," wrote Schneider in a blog. "A friend snapped this picture of the IGN team's reaction to the awkward and uneventful conference. [...] The expressions you see are genuine — each capturing the impact of Nintendo's announcement in a subtle, yet moving fashion. We liked the picture so much, we used it to illustrate our take on the show on the site."

IGN actually knew the Twilight Princess announcement was coming at E3 2004, so the group staged a new photo that was meant to hype fans up.
"With the disappointment of E3 2003 still on our minds and the same crew assembled," he said, "we sat down and staged our confidence and excitement over Nintendo's 2004 press conference in image form. We knew Miyamoto was going to bring the goods."

Know Your Meme has a bunch of examples of how this joke virally spread.
Twilight Princess was supposed to be a GameCube exclusive, but as development needed more time, it bumped into the release Nintendo's next hardware, the Wii. The game was ultimately ported to both platforms but released a few weeks apart from one in late 2006. On Wii, players could use motion controls for a few different actions, from swinging Link's sword to more precisely aiming arrows.
It was hard to imagine a trailer ever generating the kind of reaction Twilight Princess did, but you know what? Final Fantasy VII came pretty close last year!
You can reach the author of this post at patrick.klepek@kotaku.com or on Twitter at @patrickklepek.
That Actually Happened is a weekly series at Kotaku in which we highlight interesting moments in gaming history. So far, we've revisited when Sonic kissed a human, a live game show on Xbox 360, and Sony throwing a God of War party with a dead goat. If you have any suggestions for future entires, please let us know in the comments below!