Of all the cool movie props to own, I'd say that a replica Jurassic Park jeep is right up there with "Real Stormtrooper Costume" and "Life-Sized Aliens Xenomorph."
Hey look at that, over at JurassicJeep.com, they have a couple of jeeps painted to look like the jeeps from Jurassic Park. Back before PAX, Telltale games got in touch with them about possibly renting one to use in the demo booth for their upcoming Jurassic Park adventure game. I actually saw this jeep out at PAX, and it was very neat.
Earlier today, AJ Quick at JurassicJeep.com (Update: I initially erroneously identified Quick as being part of Boomerjinks, when in fact "Boomerjinks" is just the handle of Kevin Henry, who owns the jeep. Quick is a blogger at Jurassic Jeep.com) shared a story about how, in his view, Telltale damaged the jeep in transit and then refused to pay for it.
Telltale Games agreed to the conditions, and setup a hotel and airfare. They hired a transit company to pick up the Jeep in Colorado and transport it to Seattle. The company Telltale chose was Advance Car Carrier Corp, and they picked up the Jeep a week before PAX. They sent out an open car transport, one where the Jeep would be switched from trailer to trailer until it arrived in Seattle (NOT covered transport like agreed upon).

...

Needless to say… Boomerjinks' Jeep #18 was heavily damaged during transit. It sustained tears in the seats (from the transit company driving it on and off the trailer), and lots of damage to the paint. It was signed for by Telltale Games at the PAX Convention Center where they didn't even look over the Jeep for damage. They signed away any possibility of an insurance claim being filed for the damages.
Telltale games' CTO and co-founder Kevin Bruner was quick to respond to the allegation, posting the following statement to reddit and emailing a copy to Kotaku. In the statement, he offers to personally pay for the damages to the jeep.
Hello Reddit,

Kevin Bruner from Telltale here. Today there has been quite the buzz about how Telltale supposedly damaged the Jurassic Park Jeep lent to us at PAX. Telltale has in fact been in regular contact with the owner of the Jeep and the last we heard, he was in the process of completing the claim.

The Jeep was damaged on the way to Seattle, before anyone from Telltale every saw or touched it. Telltale used the shipping company that the owner asked us to use. When it arrived we just saw an awesome, well loved, but also well used, Jeep. We had no way of knowing that anything had happened to the Jeep in transport, as it appeared in reasonable condition. Anyone who came by the show and took a picture with the Jeep can attest that the Jeep looked pretty damn cool, and not obviously damaged.

The fact that the Jeep was damaged before we had access to it, and some dispute over the amount of damage caused in transport vs. existing damage has complicated the claim, which has made the process take a long time.

But, today I wake up to find that there is a campaign the day before our game launch to discredit Telltale. Since Telltale didn't actually do anything negligent, we've been using the insurance we purchased to cover this, but it's been time consuming. Apparently too time consuming. To expedite this, I'm writing a personal check to cover what we understand the damages to be - this way we won't need to hash this out publicly any longer.

Some people seem to think that Telltale has grown into some giant corporation that doesn't care about people anymore. Nothing could be further from the truth. We started the company to make games that are about writing, acting and atmosphere and not about blowing shit up. Since we've gone out on this limb, we've had some successes (and failures) and earned the chance to work with great licenses like Monkey Island, Back to the Future, Jurassic Park and Walking Dead. All of our games are super faithful to the licenses, and lovingly crafted to make the best fan experience possible. Fans seem to enjoy them, which makes us super proud. We hate that most licensed games are a driver or a shooter with a license slapped on it, which we've never been about.

So I'll fast track getting the Jeep fixed by paying for it personally, even though I don't like the circumstances this is going down in. Perhaps some of you who are hating on Telltale might be inclined to check out Jurassic Park tomorrow and give us a chance to change your mind.
G/O Media may get a commission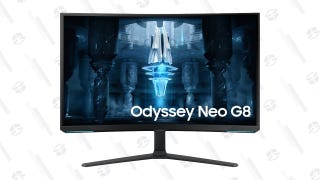 Samsung 32" Odyssey Neo G8 Curved Gaming Monitor
So, sounds like if anything, there was some miscommunication about the state of the jeep that, when exacerbated by a slow insurance company, quickly escalated into a minor internet fiasco.
Kotaku will update the story with any further developments, but for now, good on Telltale for being so quick to jump on this one and start working it out.
---
You can contact Kirk Hamilton, the author of this post, at kirk@kotaku.com. You can also find him on Twitter, Facebook, and lurking around our #tips page.