The Japanese tournament Mastercup has few equals when it comes to Tekken competition, and the ninth installment of this annual event certainly lived up to its pedigree last weekend. The stunning conclusion saw one competitor singlehandedly defeat five straight opponents to earn his team a grand finals victory.
Over the past few months, Tekken 7 has proven to be the most exciting title on the competitive fighting game circuit, and it carried that emotion into Mastercup over the holiday. This longstanding event is always full of surprises, but finalist Keita "Kagemaru" Takemoto's grand finals comeback arguably stacks up as the greatest moment this venerable tournament series has seen since its inception in 2007.
Like many Japanese events, Mastercup is an absolutely brutal gauntlet of high-level competition. While attendees can typically count on their teammates to pick up the slack, its one-and-done format (with no losers bracket to provide a second chance) leaves little room for error. After starting with over 1,000 participants, grand finals came down to two local teams, both looking to represent Tokyo as Mastercup champions.
Unfortunately for Anti-Benkei team member Kagemaru, he quickly found himself staring down a 4-0 deficit after his teammates fell one by one to Batsu of Team Yamasa. As he took his spot at the arcade cabinet, Kagemaru was faced with the proposition of not only putting an end to Batsu's reign of terror, but also with defeating some of the greatest Tekken 7 players in Japan, including Evo 2015 champion Nakayama "Nobi" Daichi.
G/O Media may get a commission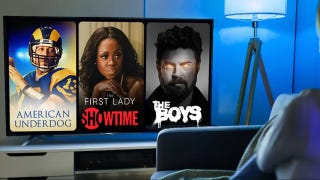 UNDER $1
99¢ Prime Video Channels
At first, it seemed as if Batsu was well on his way to taking the match, but even against seemingly insurmountable odds, Kagemaru wasn't ready to go down without a fight. By utilizing the deceptive pokes of Tekken 7 newcomer Josie Rizal, Kagemaru handed Batsu his first grand finals loss, paving the way for an unbelievable comeback with one of the game's weaker characters.

Kagemaru remained stoic, calmly tackling each opponent that stepped up to the plate despite the other squad's continuous premature celebration. But as the match progressed, their moods began to switch. Kagemaru's defeated teammates became joyous at the possibility of their victory, while Team Yamasu became more engaged, their impending win slowly slipping from their fingers.
Eventually, only one competitor stood in Kagemaru's way: Yuji "Yuu" Kato, a Tekken series veteran with championships of his own under his belt. By then, the momentum had entirely swung in the challenger's direction, and Kagemaru's confidence shone through every aspect of his gameplay. Josie's quick movement options afforded him multiple opportunities to punish Yuu's errant attacks.
With one round to go, Kagemaru forced Yuu's Feng to the wall, depleting his health bar to a mere one-third in just 10 seconds. Yuu tried his best to escape the corner, but this only gave Kagemaru more openings. In simply trying to survive, Yuu was unable to score a single hit on his opponent, allowing Kagemaru to end his incredible comeback with a perfect round.

Although Kagemaru entered grand finals with an almost impossible task laid before him, he left, as commentator Mark "MarkMan" Julio put it, a "stone cold killer."
Ian Walker loves fighting games and writing about them. You can find him on Twitter at @iantothemax.