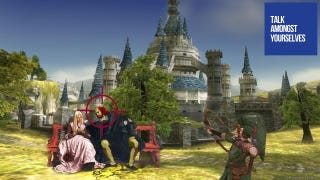 The weather is a bit dreary here at Kotaku HQ in Manhattan, and it can sap your motivation to go anywhere. But, we all have things to do and places to be, so we must march on!
How's the weather by you? Hopefully better than the rainy greyness we currently have here. Anyway, please take this time to discuss video games, or anything else you'd like, and talk amongst yourselves!
Another of many thanks to Pan1da7 for today's entertaining TAYpic! Keep up the good work!
Want to have your TAYpic featured here?
If you think you've got what it takes, or even if you don't, here's what to do: submit your images to #TAYpics. Keep submitting until you're out of good ideas, at which time, we recommend you keep submitting anyway. If you still need more instruction, check out this thread for details on how you can be a TAY superstar.
Good luck!