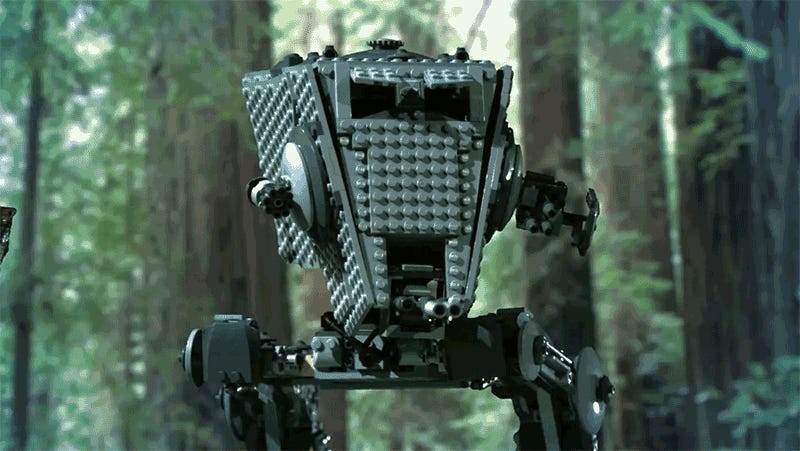 The best scene in Return of the Jedi isn't when Vader kills the Emperor, or when the Death Star explodes, or even when Han Solo thaws out of carbonite. It's when the Ewoks take down an AT-ST walker using a couple of giant swinging logs, and it's just as satisfying when recreated with Lego.
You may have already read Leigh Alexander's damn-near definitive recounting of Ian Bogost's satirical Facebook game Cow Clicker right here at Kotaku. But all the same, the world could use another piece about the man and his work, especially if that piece is as clever as the one that Wired just ran.
Children of Andy Robertson, writer for Wired's GeekDad blog, reached their limit of videogame time over the weekend, but did not want to stop playing Skylanders.
Tiger Telematics' spectacularly failed Gizmondo portable game machine may be the most exciting industry misfires of all time. Someone thinks it's potentially exciting enough to be brought to the silver screen.
With console warring between Nintendo and Sega a thing of the past, Sega now relegated to a software only existence — robot girlfriends and indoor astronomy gizmos not included — you'd think that those Genesis era wounds would have healed. Perhaps without meaning to, famed Nintendo designer Shigeru Miyamoto may have…
Condé Nast Snaps Up Ars Technica. The newest addition to the CondéNet family, by way of acquisition, is technology site Ars Technica. The Associated Press reports that the publisher will "combine it with the online operations of Wired magazine." Wired, which republishes its print magazine content online and runs a…