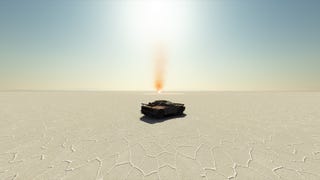 Since we ran a feature on Duncan Harris, the groovy "video game photographer" behind the website DeadEndThrills, I've been sharing some of his work each week here.
Total War: Shogun 2 may look and sound for all the world like the latest in a long line of reasonably bland strategy strategy games. As most grand strategy games are. Removing the player from the action to such an abstract level tends to rob the genre of its potential to truly immerse you in the spirit of the war,…
While Total War: Shogun 2 does an excellent job of depicting the titanic clash between two warring factions, it's always been missing a little something to make the experience complete: Majestic arcs of spurting crimson lifeblood, and the odd severed head. All this and more can be yours for $1.59.
After the release of the Shogun Pack for Team Fortress 2—tied to the release of The Creative Assembly's Total War: Shogun 2—it didn't take long for the TF2 community to extract its true worth: recreating kung-fu movie and anime tropes like the high-flying mid-air sword fight.
Team Fortress 2's offering Japan-themed hats and swords for all eight classes as part of a tie-in with Total War: Shogun 2, which is due for release next week. There are three ways to get the items. One, of course, is to preorder Shogun 2 on Steam. [Team Fortress 2]
See if The Creative Assembly's return to Japan is as good as it looks on February 22, when a demo of Total War: Shogun 2 hits Steam, well in advance of the game's March 15 release date.