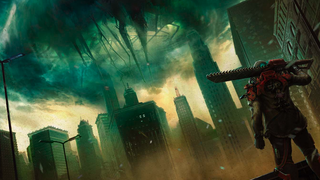 The Surge 2 is happening and aiming for release on PC and consoles sometime in 2019. Deck13, the game's developer, is touting the sequel's expanded world and limb targeting system. That's good news as the first game's levels were a bit claustrophobic. Still, the robot dismemberment system was pretty great.

For the last month, I've been livestreaming my playthrough of The Surge on Kotaku's Twitch channel, defeating one boss a week. Last night, I completed the game. While it was exciting at first, I can now officially confirm that The Surge is not very good.

There's only one more boss left until we beat the futuristic Souls-like The Surge and we're going to stream live on Twitch until we kick its robotic ass.
Heather is back from E3 and ready to beat up more bosses in the sci-fi Souls-like The Surge. Watch her totally not die live on Twitch.
We've destroyed two giant robot bosses and continued to slash our way through the post-apocalyptic Souls-like The Surge on Twitch. Will we survive or will a giant mech stomp us into bloody paste? Tune in to the archive to find out.