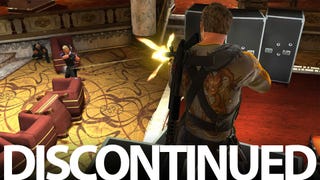 Yesterday's rumors have proven true, as Sony Online Entertainment confirms 205 cut positions, the closure of three studio locations, and puts the final bullet in the head of massively multiplayer online spy game The Agency.
Sony Online Entertainment's The Agency, the massively multiplayer spy role-playing game announced in 2007, may have hit a bit of a development snag, losing key personnel that includes the studio's director and executive producer.
Several of you emailed us this morning, frightened after receiving email notifications from the game rental service GameFly that Sony Online Entertainment's MMO The Agency for the PlayStation 3 had been canceled by the manufacturer. Instead of panicking, we decided to contact the manufacturer to see what they had to…
The developers of upcoming MMO The Agency, Sony Online Entertainment, are releasing the game on two platforms. PC and PS3. So it's natural to hope that they're looking at cross-platform play between users of either system, yes? Correct. Natural and fortunate, because that's exactly what they're doing. Replying to a…
Sony Online Entertainment's experimental blending of social network service with massively multiplayer online role-playing game, FreeRealms, is coming to the Playstation 3 as well as the PC, Sony Computer Entertainment of Europe announced today. FreeRealms joins DC Universe Online and The Agency as the first…
Julia Brasil was recently chosen as the winner of Sony Online Entertainment's first Gamers In Real Life (G.I.R.L.) design scholarship contest. Nearly 100 applicants submitted game concepts and essays, and Julia's Everquest II level and essay submission won her a $10,000 scholarship to The Art Institute of California,…
Last month Sony Online Entertainment announced that upcoming titles The Agency and Free Realms would be utilizing the Live Gamer service for real money transactions, which many people took to mean that players would be able to buy weapons and equipment to enchance their gameplay. In an interview published over at…
At the US PlayStation Blog, director of development Matt Wilson of Sony Online Entertainment's Seattle studio, currently at work on development of The Agency, introduced himself with some quick updates from a recent open house alongside the recent ION Game Conference, which included an Agency-themed event.