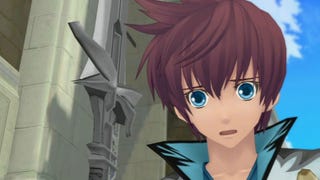 I knew becoming the father of twin boys would impact the amount of time I had to play video games. I didn't realize it would also affect the way I perceive them. As I played through the early hours of Namco Bandai's Tales of Graces F I came to a startling realization: I'm not merely 'me with kids'; I'm a father now.
Namco Bandai is bringing PS2 role-playing game Tales of the Abyss to the 3DS next year. In other Tales news, PS3 game Tales of Graces F, the enhanced port of Wii title Tales of Graces is getting a Western launch next year. It was released in Japan in late 2010. [Eurogamer]
Another Tales game will come to the West, publisher Namco Bandai has announced. Tales of Graces F, the enhanced PlayStation 3 port of a 2009 Wii game, is "coming soon to North America." Enjoy this victory, long-suffering Tales fans!
Tales of Graces, the buggy Wii game, is getting a PS3 port and its own curry. When originally released on the Wii, the game also got its own curry. When people think of curry, do they imagine Tales of Graces? They do now.
Wii title Tales of Graces was so buggy that the game had to be recalled. A ported (and no doubt refined and hopefully bug-free version) is coming to the PS3.