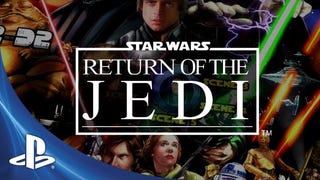 What Do You Get When You Combine a Speeder Bike and a Pinball Table? You get a rather slick sub-level in Return of the Jedi, (at 1:00 of this gameplay video) due sometime this fall in the next set of three tables for Zen Studios' Star Wars Pinball.
The second triology of Star Wars tables for Pinball FX 2 and Star Wars Pinball begins with Darth Vader. Not the Midichlorian-rich little boy Darth Vader, but full-on, James Earl Jones-talking, force-choking, 25-sandwich-a-day-eating Darth "Motherf***ing" Vader. That's how you start a second trilogy.
Star Wars Pinball's first three tables—The Empire Strikes Back, Boba Fett and The Clone Wars—will release next week on a slew of mobile and console platforms. Pricing and release dates are different for all of them, so pay close attention.