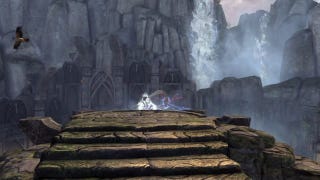 Nearly two years ago at E3 2010, Sony showed off a game that demonstrated the true potential the PlayStation Move. Today it quietly slips onto retail shelves. Anyone excited for Sorcery?
I've shown you how the upcoming PS3 motion magic title handles and now these new screens let you peer into the underworld you'll be adventuring through. As previously mentioned, the prestidigitation magic title will be available next spring.
Lots of folks have wondered about whatever happened to PS3 exclusive Sorcery. After more than a year of silence, Sony' just announced that the Move-centric motion-control game will hit in Spring 2012. Look for our hands-on impressions later today.
Shown exclusively during the Sony E3 2010 press conference, SCEA's Sorcery made enough of an impression on us to score a Best of E3 nomination for Best New Game. How'd that happen?