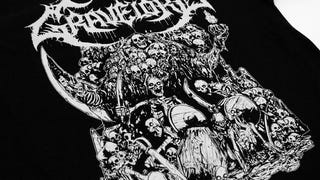 DEATH MTN makes shirts like these. As you can see, fans of Dark Souls are being well catered-for.
Farmville is a craze that is sweeping the internet, but its simplistic premise and Facebook residence won't please everyone. For you who are displeased, then, there is this t-shirt.
Japanese 2D fighter BlazBlue - the spiritual successor to Guilty Gear - isn't the most likely subject for an American fashion brand collabo, sure, but a fashion brand collabo is what the game is getting.
In the West, Fallout 3's advertising campaign tried to keep things classy. So it is in Japan, with the release of these Fallout 3 shirts designed by...Famitsu.
Most gaming shirts are awful (though not all!). Most riffs on the classic "John Paul Ringo George" shirt are awful (though not all!). This shirt is both of those, but is not awful.
Chris Hastings is the man behind the internet's premier medical/ninjitsu soap opera, Dr McNinja. And you know what? He's also the man behind this reasonably badass Mario Bros. shirt.
World of Warcraft merchandisers supreme Jinx have unleashed their new winter line just in time for Christmas, complete with the return of the talking, hand-humping murloc plushies.
Yup. They're not just classy. They're classy classy. They're part of an upcoming Street Fighter II line by Triumvir, which will be out later in the year. These shirts, however, (also available in black, with matching caps) will be available this week at Comic Con. If you've always harboured a desire to be part of…
What better way to show your love for the world's finest pack-in game than with these Super Hang-On shirts, the latest in King of Games' "Get Ready" line of Sega tees. It comes in a fetching shade of black, like you can see above, but also in white, should you be the type to make it all the way through a ribs night…
Announced during the MGS4 party earlier today, Konami have teamed up with Japanese label Uniqlo to release a range of snazzy new MGS shirts. There are six designs to choose from, with each design coming in two colours, for a grand total of twelve shirts you can view on the internet, dream of buying then - whether due…