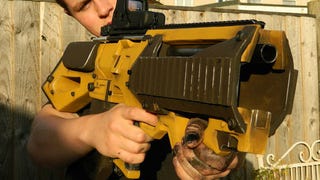 300 hours and $200 was enough for popular modder Ikkalebob to build the real-life version of the Dahl assault rifle from Borderlands. It even has a working sight and with the tweaks he made it just looks really powerful.
Weaselhammer of Vector Sigma Creations is the very talented person behind this magnificent-looking replica of the M-12 Locust submachine gun from Mass Effect 2 and 3. The overall creation process took about three months, during which Weaselhammer crafted the model piece by piece, attaching synthetic polymer components…
Triforce, the creators of many fine video game replica weapons, are getting ready to arm 600 lucky customers with scale replicas of the M-3 Predator Pistol from Mass Effect 3.
Commenter GiantBoyDetective poses here with the replica Master Sword he received for Christmas, a harbinger of dark times ahead in today's Speak Up on Kotaku.
Minecraft gamer Capp00 set out to recreate his real-world home inside the block virtuality of Minecraft.