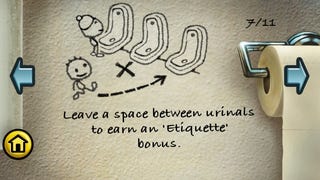 The rise of smartphones and mobile gaming means that there's also been a rise of bathroom gaming. (Don't act like you don't do it.) But there hasn't been an uptick in games about bathrooms. If you've been waiting for one, Men's Room Mayhem offers you some relief.
For once, you have to admire the restraint of the creative folks at Next Media Animation. Never ones to pass up low-hanging jokefruit, they don't make a Wii joke in the report that covers the westward march of urinal games. NMA does offer their visions of permutations of pee-based games for women and kids, though,…
First, they put advertisements in front of men's urinals, figuring dudes who have to answer nature's call are a built-in audience. Now, men's latrines are becoming interactive as the urinal consoles that have been in place in Japan begin their march westward.
Note that I said "confronting." I can't say "answering" because that presumes there is a good reason for the absence of urinal faculties in Ryu, Mega Man and Princess Peach. And when we get to the end of this video by Gameboyardee, we are left with even more questions.