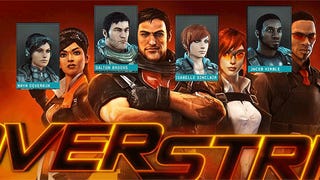 Despite my aversion to shooters—god, there's too many of them—Overstrike, with its playful, comical tone and its cartoon aesthetic caught my eye. The approach felt like something fresh. But we don't have Overstrike anymore, no, instead we have Fuse. Compare the two trailers for the games and you see see a world of a…
This teasing screen for the next big game from the developers of Ratchet & Clank briefly appeared on screen during Ted Price's PAX Prime keynote moments ago. Is Fuse a renamed Overstrike, or something entirely new?
Insomniac's made big moves these last few months, pulling away from PlayStation exclusivity and declaring that they won't be making any future Resistance games. You could argue that the future of the highly regarded developer is more independent but more risky, too. One thing's certain: toys are on the way.