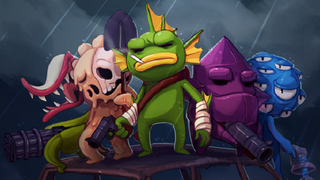 Okay, I'm probably not gonna make it to the Nuclear Throne today. But I sure as heck can try!
When games break, the developer isn't usually encouraging it, but rules are made to be broken, right? Such is the case with Vlambeer's Nuclear Throne. In the pursuit of madness, developer Rami Ismail kept sending increasingly broken versions of the game to YouTuber STAR_. The results were messy, hilarious, and full of…
Vlambeer's Rami Ismail accidentally inspired a Nuclear Throne challenge, to beat the current version of the game using only the pistol. 10 hours after it was officially proposed, Wizard_Amul did it.
Vlambeer's Nuclear Throne is adding four-player online and local multiplayer. If you're familiar with the brutal Gauntlet-style game, you're cheering right now. Online multiplayer will be added to the Steam Early Access version of the game soon. It's going to be glorious.