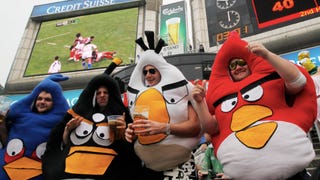 Hit iOS game Angry Birds has a wide variety of fans that range from talkshow host Glenn Beck to singer Noel Gallagher. Everyone likes Angry Bids!
Robbie Williams, whom Noel Gallagher once called "the fat dancer from Take That", is returning to boy band Take That. He is also releasing a music game.
Guitar Hero World Tour owners thirsty for new content can drink in Oasis' latest, as Activision has made Dig Out Your Soul available as downloadable content. What can you look forward to?
Previously, Noel Gallagher said Guitar Hero was better "than somebody getting their fucking head chopped off with a samurai sword while getting fucked by a goblin up the arse with a laser." Eloquent!