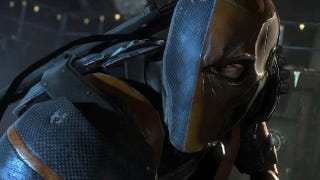 The fact that you'd be able to play as Deathstroke in the upcoming Batman game squeaked out a few months ago, but this trailer is the first look we're getting of Slade Wilson in action. Bad-ass, no?
The folks making Batman: Arkham Origins know exactly what they're trying to accomplish with this year's Dark Knight video game. It's the story of the night where Gotham City's supervillain culture spins irrevocably out of control. This is when the Dark Knight becomes a legend, they say. So, it's really too bad that…
Fun fact: Canada has never appeared in a Counter Strike map before. That is, until Diego Liatis made a map of Montreal's Berri-UQAM station, which you can see above. Pretty cool, right? Well, not everyone feels that way.
Deus Ex: Human Revolution is, by today's standards at least, a pretty big game. It took me around 35 hours to finish it. But did you know at the planning stage it was meant to be even bigger?
When Patrice Désilets, the former creative director of Assassin's Creed, abruptly left the game, it left the impression that he was unhappy with Ubisoft's plans to pump out another sequel so soon. Not true, says a friend and colleague.