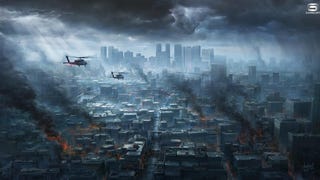 Gameloft's Modern Combat series may ape Activision's Call of Duty series, but it's definitely not on the same release schedule. Almost a year after the first teaser trailer, the fifth installment of the series has a name: Modern Combat 5: Black Ops — I mean Blackout.
Researchers at the University of Minnesota say they've found a link between motion sickness and iPad gaming. The fact they played Gameloft's Call of Duty clone, Modern Combat is delightful to me, but the game itself isn't what makes people queasy. It's how games are played on the tablet in general.
Yesterday the Power A folks celebrated the Android launch of Modern Combat 4: Ridiculous Dialog by giving away (or attempting to give away) free MOGA game controllers with copies of the game. If you managed to score one, this is what you're in for.
In early 2011, Epic Games released Duty Calls, a Call of Duty parody game that made fun of the military shooter in order to promote the release of Bulletstorm. The story mode for Modern Combat 4: Zero Hour is ten times as funny, only I'm pretty sure it wasn't meant to be.