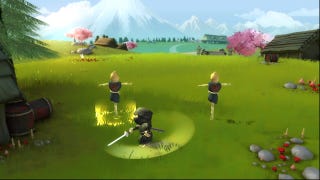 We've not heard much from Hiro and his tiny assassin friends since 2009's Mini Ninjas, which makes sense; you're not supposed to hear ninja. Fans will get a chance to learn that for themselves come June 29, when Square Enix releases Mini Ninjas Adventures, a Kinect-powered fight-fest for Xbox Live arcade.
Square Enix has filed new trademarks in relation to the Mini Ninjas franchise. Which, very quietly, is one of my favourite games of this entire console generation. So this is way more exciting than it should be. [Siliconera]
New Halo, new downloadables for Mass Effect, Fallout 3, and Grand Theft Auto, new Forza. It was a pretty good year for Xbox 360 owners.
IO Interactive, the guys behind the Hitman series and the excellent Mini Ninjas, have moved onto something else. Something that's nothing like either of those games, apparently.
It looks like we'll be seeing a lot more of Eidos' Mini Ninjas in the future, as film and television production company 4Kids Entertainment becomes the property's global licensing agent.
Take Eidos' adorable little assassins for a spin later this week, as a demo of IO Interactive's Mini Ninjas hits the PlayStation 3, Xbox 360, and PC.
IO Interactive's tiny little messengers of death are launching an all-out assault across multiple gaming platforms next month, as Eidos cuts down a September release date before it even has time to scream.
Futo is of course the powerhouse of Mini Ninjas' trio of characters, which in video game terms means he is slow but powerful. He (literally) rounds out the group, with Hiro as the all-around ninja and female Suzume filling the role of agile yet weaker character. A little formulaic, perhaps, but sometimes sticking with…
Mini Ninjas' Hiro continues to impress in these latest screens of upcoming adventure Mini Ninjas from Io Interactive.
Eidos has confirmed the three major titles they'll be bringing to E3 2009, featuring three different types of agents of dark justice - small, medium, and Batman.
A ninja is at home in any environment, as evidenced by these frosty screens for Eidos' Mini Ninjas for the Nintendo Wii, DS, and Xbox 360.