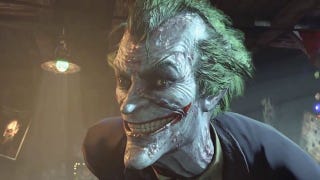 When writer Matt Oswalt pointed out that president-elect Donald Trump's recent New Year's Eve tweet sounded like something the Joker would say, the Joker rose to the occasion.

It's a factoid years old that when Luke emerges from his X-Wing after the Battle of Yavin in A New Hope, the over-excited Mark Hamill accidentally cries "Carrie!" rather than "Leia!" when Carrie Fisher's Princess comes running into his arms. But did he really? Not according to Luke Skywalker himself.
To tell the truth, the best thing in this clip by Nerdist is not necessarily the fan moments (that Patton Oswalt scene though...), but Mark Hamill himself, who still looks super cool and totally ready to put the robe back on. He's here to show some of his favorite Star Wars fan moments, all leading up to a contest.
Star Wars made actor Mark Hamill famous. And while he turned in strong performances in films such as Sam Fuller's war opus The Big Red One, he was never quite able to move out of the shadow of Luke Skywalker.
Fresh word from the GameStop expo in Las Vegas is that Mark Hamill, voice of the Joker in Batman: The Animated Series and face of Luke Skywalker in Star Wars, will have a starring role in the upcoming Batman: Arkham Asylum video game. The role? The Joker, naturally. Hamill will bring his finely tuned maniacal giggle…