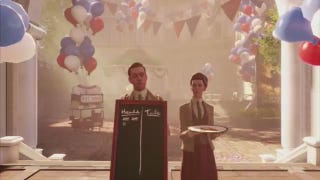 There aren't that many "stars" in video game voice acting, but Jennifer Hale is certainly one of them. Despite the fact that she's played leading roles in everything from Metal Gear Solid to Knights of the Old Republic, it was really the Mass Effect series that pushed her over the top. These days, whether I'm hearing…
The folks at The Sneaky Zebra are making a short film based on the Mass Effect universe, and have sent along three new character trailers for the game. The one up top is for a renegade character named "Hale," which I would imagine (or at least hope!) is a reference to voice actor Jennifer Hale, who plays the female…
It's pretty cool that Jennifer Hale was the subject of such a great New Yorker profile. Not just because she finally played Mass Effect while doing it, and not even because I totally have a quote in the article. No, it's cool because Jennifer Hale is the queen of voice acting, and she deserves the recognition.
Jennifer Hale, celebrated voice actor for the female version of Mass Effect lead Commander Shepard doesn't play video games. Writer Tom Bissell, who profiled Hale in this week's New Yorker magazine does and cajoled her to play Mass Effect 2 with him, just for a bit.
There's a great interview with Jennifer Hale, the voice of the female Commander Shepard from Mass Effect, over on Rock, Paper, Shotgun, where she talks about all kinds of cool stuff. Most poignant at this present time, though, are her thoughts on the vote for her character's new face.