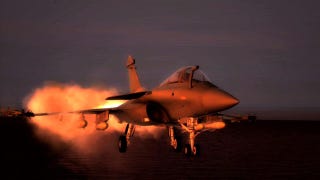 Ubisoft's upcoming air-combat game isn't just about the fancy fixed-wing fighter aircraft. The latest trailer for Tom Clancy's H.A.W.X. 2 shows you'll be in charge of helicopters and the massive AC-130 gunship too. The demo's already out on both consoles.
Hey, if you like your warfighting served up with jetflying and jargonspeaking, Tom Clancy's H.A.W.X. 2 will drop a demo on Monday and Tuesday.
Due out this fall, H.A.W.X. 2 looks like a perfect fit for fans of aerial combat. The question is, are there still enough of those fans around to support a big series like this?
The latest Ubisoft game to bear the Tom Clancy name is H.A.W.X. 2, the sequel to the original, million-selling arcade-style flight sim. Billions of dollars in virtual aircraft will once again be blowing up this fall.