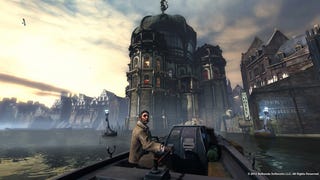 Sometimes I think a golden age of DLC was kicked off by The Ballad of Gay Tony for Grand Theft Auto IV. Minerva's Den for BioShock 2, Freedom Cry for Assassin's Creed IV, Left Behind for The Last of Us, and maybe even Burial at Sea for BioShock Infinite were all expansions that matched, or even exceeded in some ways,…
Harvey Smith—who you probably know as a chief architect of Deus Ex and of last year's hit stealth/action hybrid Dishonored—has made games about secret alien UFO labs and supernatural steampunk assassins. So you might expect a novel from the co-founder of Arkane Studios to be heavy with genre trappings and filled with…
Harvey Smith, who has worked on stuff like Deus Ex and was most recently lead designer on Dishonored, has written a novel. You can check it out here.
Okay, so Dishonored is excellent. That won't stop me from nitpicking and critiquing some of the things I didn't like about the new stealth-action game.
Revenge ain't easy. While playing Dishonored, an excellent new stealth-action game that's out today for consoles and PC, you might find yourself face-to-face with a pack of pistol-brandishing guards or surrounded by a swarm of hungry, plague-infested rats. Or maybe you just don't know where to go next.
Improvisation is a word normally associated with jazz and comedy. You are presented with a situation, it changes, and you adapt. You start out with a key and a tempo or an audience suggestion and a scene but you end up with something different by the end through key changes, an unexpected turn of phrase, or that one…
Some of us succumb to copying the habits of friends by playing the same games or watching the same TV show. Harvey Smith is another developer giving in to a different pressure.