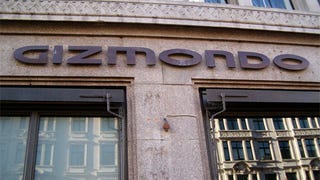 That's Swedish for "the slammer." Bo Eriksson, lesser known for his role heading the failed portable called Gizmondo, more known for bizarre behavior including wrecked cars and arson threats, is headed there.
Tiger Telematics' spectacularly failed Gizmondo portable game machine may be the most exciting industry misfires of all time. Someone thinks it's potentially exciting enough to be brought to the silver screen.
Gizmondo are itching for a rematch with the market. And this time, no Ferraris. Problem is, there's an economic downturn going on at the moment, which means Gizmondo 2 isn't in the best shape.
There is absolutely no way this will not happen. Rich Jenkins of Media Power has let a Swedish journalist see the new Gizmondo and confirmed it will be on sale by the end of the year. This year, before you ask. The first Gizmondo was.. not very successful, but the new device - with its NVIDIA graphics and the option…
Carl Freer founded Gizmondo back in 2002, the idea for the ultimate handheld gaming system stemming from a child tracking product he had been developing. Three years later he resigned from his position as Chairman of the Board, the company and product both having failed miserably. Now three years later, Freer is …