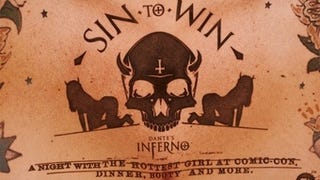 GayGamer.Net's PixelPoet had a novel response to the "Sin to Win" fiasco at Comic-Con - send a shot of himself with a burly booth dude. Turns out he got runner-up.
I've got a re-cap of last Saturday's Gay and Lesbian Alliance Against Defamation right here, but if you're looking for quick quotes and interesting issues to rehash, here are a few gems.
Physically, you may not have been at EA Redwood Shores this weekend. But if you commented on to Justin Cole's op-ed column to Kotaku, you were there in spirit.
GayGamer honcho, Kotaku buddy and collector of amazing t-shirts Flynn De Marco makes an appearance in this Current TV clip about the site's founding. It also deals with online discrimination and the hacking of GG. Check it out. Thanks Cheapy for the tip!