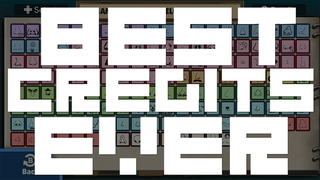 The credits in the new Nintendo game Game & Wario are as weird as the rest of the game, but they're also possibly the best credits ever. They serve a serious, modern purpose. And they make some good jokes.
I'm just saying. I'M JUST SAYING. If you're going to call the promotional campaign for your game a "Crowdfarter" and talk ceaselessly about farts, said promotional campaign had best feature some actual flatulence. In that respect, Game & Wario's goofy new promotional campaign is a disappointment.
Game & Wario is a new mini-game collection and spin-off of the WarioWare series for the Wii U. And of the minigames in the collection, many come with a short introduction cutscene starring Wario and/or the other characters from the WarioWare series.
Announced today during a Nintendo Direct broadcast, Game & Wario bundles together 16 mini-games where players with the Wii U gamepad and Wimotes will compete against each other. One game called Fruits will have players stealing edibles while the others try to catch him. In the video above, Nintendo president Satoru…
Inception features dreams that are in dreams. Nintendo's newest Wario title, Game & Wario, is kind of like that, too.
Leave it to Mario's evil doppelganger to demonstrate the innovative potential of a new piece of hardware. As you can see from this video we shot of Game & Wario at E3 this week, Wario and his friends do a nice job showing off some of the unique ways you can use the Wii U's GamePad controller to play games.…
The 3DS Excepted, new Nintendo hadware launches over the last decade or so have almost been defined by the Wario games released at or near their launch. Combining quirky mechanics with an almost requirement to play them socially, they do as good a job of any game of making the most of a system's unique capabilities.