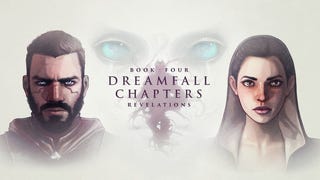 The fourth episode of Dreamfall: Chapters, Red Thread Games' sequel to the classic Longest Journey adventure game series, is out this week—on December 3, Thursday, to be exact. The trailer announcing the release date is above, and you can find our impressions of the first three episodes here, here and here.

I just finished the second book of Dreamfall Chapters, yet I still feel like I am waiting for the story proper to get going.
The much-anticipated next part of the Longest Journey saga comes out on October 21st. Dreamfall Chapters, Book One will have PC and Mac versions hit Steam on that day, with a PS4 version to follow next year. Find out more here.
Recently game studio Red Thread ran a competition to include fan-made music in revered adventure revival Dreamfall Chapters. Or at least, they tried to.
The long-awaited sequel to The Longest Journey isn't going to be one big game anymore. Dreamfall Chapters will now be coming out as a series of episodic releases—with the first one hitting this fall—according to an update on the crowdfunded game's Kickstarter page.
If you like point-and-click adventure games and have a heart beating in your chest, you probably like The Longest Journey. And so you were probably happy to hear that Dreamfall Chapters, the next game in the series, had a successful Kickstarter campaign and will be coming to PC.
Dreamfall Chapters: The Longest Journey has five new screenshots to its name—actually stills from the adventure game's upcoming twenty to thirty minute vertical slice demo, which will be shown off in the coming months. The shots star Kian Alvane, one of the game's playable characters. Check 'em out below.