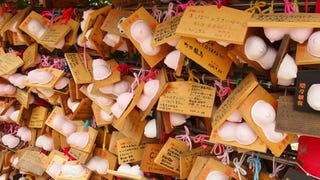 There are several festivals in Japan dedicated to the phallus. At the very least, it's only natural that there would also be a religious sites for breasts.
Agnostic mountain climbers today don't know how good they have it with global positioning devices, high altitude helicopter rescue parties and 457 kHz standard avalanche beacons, something I realized while playing Deep Silver's Cursed Mountain.
Before my first look at Deep Silver Vienna's Cursed Mountain, I always thought of Buddhism as an optimistic celebrity religion where you didn't go to Hell. Now I think it's the second-scariest religion ever.
Cursed Mountain is a survival horror game for the Wii about a mountaineer searching for his lost brother. It looks creepy and seems to involve a lot of flailing based on Producer Marin Gazzari's playthrough shown in the video. Don't be too skeptical of the motion controls, though — if a bunch of mountaineering zombies…