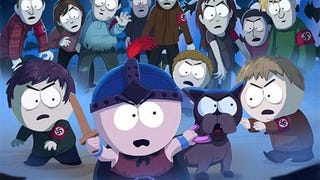 The new South Park game has swastikas in it. For the German version of the game, publishers Ubisoft said they were removing them, so as to comply with the nation's constitution, which forbids displays of the Nazi symbol. Only...Ubisoft might have screwed that up.
Made by artist and designer Tobias Wüstefeld for the We Love 8 Bit show in Austria this month, these two pieces are...animal skulls. Turned into floating Super Mario Bros. levels. Right.
There's a movement afoot in Germany to hold a mass burning of "killerspiele,"—their word for violent video games—in front of the Reichstag in Berlin on Jan. 27. Leni Riefenstahl died eight years ago, so if this really happens, someone else will have to film it.