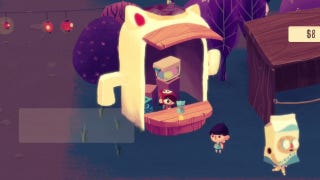 In Mineko's Night Market, you are a girl who runs a stall on a whimsical island dominated by cats. The game comes to PC and Mac in 2018. 
On a particularly hot day last summer, Imgur poster Joelalmeidaptg was walking down the street playing Pokémon Go when they heard a kitten crying for help from behind a nearby electrical post. Months later, the cat, named Spock, is thriving in its new home thanks to an unlikely string of events.

Artist Justin Wallis has taken Gecko's chiptune track 1988 and made his own music video for it, using little but his drawing skills and a Nintendo DSi.
Resisting a Nintendo DS game about cute little robot hamsters might be possible, but when Activision packs in a tiny stuffed hamster baby into the collector's edition of Zhu Zhu Pets, even the strongest man's resolve begins to falter.
The gang from Southpeak Games wishes you and yours a happy holidays and a something 2010, showcasing one of the most adorably goofy groups of game industry professionals ever assembled, except for that one guy.
After months of testing that may have seemed like playing a launched game to the uninitiated, Perfect World's Ether Saga Online is finally declared fit for launch.