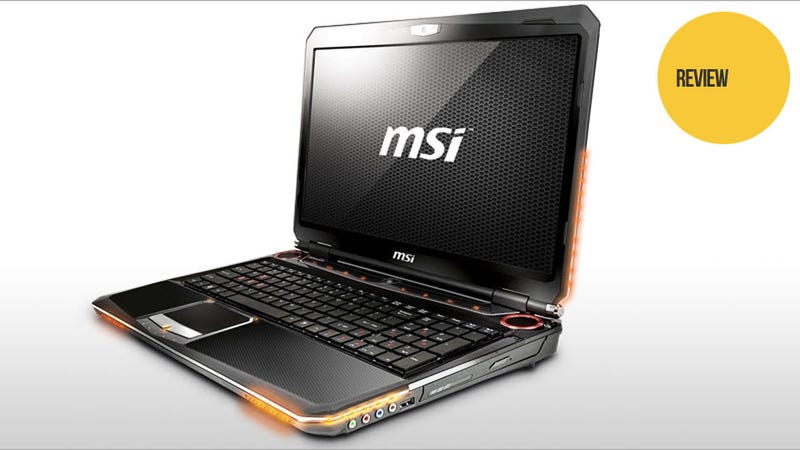 Upon finishing up the initial download and install of The Elder Scrolls V: Skyrim from Steam and launching the game, the game determined that the optimal graphics settings for the MSI GT683DXR-423US gaming laptop I was playing on were "Ultra High", and that was good enough for me.
Of course I didn't have to spend some $1,500 to play the latest installment of Bethesda's masterful open world role-playing franchise on the GR683DXR. The company sent me a model for evaluation, to be returned shortly after this review is posted despite my having licked the surface of the machine on several occasions. Many, many occasions.
So for those of you that do have to spend a large amount of money on this Core i7 2 GHz laptop with its 15.6-inch full HD display, 12GB DDR3 system memory, and NVIDIA GeForce GTX 570M graphics card, the real question is what parts did I enjoy licking, and which bits left a bad taste in my mouth?
First off we have the meaty taste of the MSI GT683DXR-423US's rather hefty frame. While the 15 by 10.3 inch footprint is rather modest, at nearly two inches thick and weighing in at 7.7 pounds it's the sort of gaming laptop that spent a great deal of time on my desk and very little time demonstrating its portability. I had the opportunity to bring the MSI machine with me to BlizzCon earlier this year, but opted instead to go with the hideous Asus laptop I procured earlier, partly because it weighs two pounds lighter and partly because it was less likely to be stolen by random Blizzard fan ne'er-do-wells.
While the MSI GT683DXR-423US is a slightly thicker, meatier gaming laptop than I'm used to fiddling with, that thickness makes for an incredibly sturdy unit that I could probably sit on without damaging. Probably. I'm not going to try it.
The bulky GT683DXR-423US is housed within a shiny stylized black plastic shell that reminds me of the original PlayStation Portable in terms of both shine and dust and fingerprint attractiveness. Further ensuring that everyone knows this isn't a dedicated Microsoft Office workstation, the unit is festooned with strips of glowing orange LEDs along the sides, top, and front, all of which can be turned off with the press of a button in case you want to look more studious while leveling your Khajiit at Starbucks.
GT683DXR-423US Features:
• Intel® Core™ i7-2630QM Processor
• Genuine Windows® 7 Home Premium 64bit
• 15.6" Full HD Display (16:9; 1920 x 1080)
• NVIDIA® GeForce® GTX 570M discrete graphics (DDR5 1.5GB VRAM)
• Accelerated performance with MSI TDE Technology
• MSI Cooler Boost Technology
• Dynaudio Premium Sound Speakers
• THX TruStudio PRO™ provides excellent surround sound effect
• 1TB hard drive in Raid 0
• 12GB DDR3 system memory
• USB 3.0 for high speed data transfer
• HDMI 1.4 (High-Definition Multimedia Interface) output
• Built-in 720p HD webcam
• 802.11 b/g/ n Wireless LAN with Bluetooth
Overall the unit's design is rather sweet, though I might have preferred the shiny surface be replaced with the attractive carbon fiber-like honeycomb plastic that covers the wrist rest and track pad, attracting less finger prints and more admiring stares from onlookers in the process.
While we're on the subject of shiny things, the unit's 15-inch 1080p LCD panel is as glossy and gorgeous as the glass of a freshly-polished candy counter, adding vibrant tang to anything displayed upon it. While some folks prefer a more subdued display more akin to today's standalone monitors, I like my gaming laptops glossy and reflective. I'm sure if I were the sort to play Battlefield 3 in the park on a beautiful sunlit afternoon it would bother me. Thankfully I'm not even sure what a park is anymore, and the sun is just a mass of incandescent gas, at least that's what They Might Be Giants tells me.
And They Might Be Giants sound pretty spectacular on the MSI GT683DXR-423US's Dynaudio premium sound speakers, especially after a little tweaking with the included THX TruStudio PRO application. When I'm using a gaming laptop in public I generally stick to a headset for sound, but when I'm at home or in the mood to be a bit of an asshole I prefer something more powerful than standard laptop speakers, and these babies deliver a fresh and juicy sound.
The MSI GT683DXR-423US took every game I threw at it and kept coming back for more. Battlefield 3 on the highest settings? No problem whatsoever. The Witcher 2: Assassins of Kings with the graphics cranked up to ridiculous? Not a problem. Between the Intel Core i7-2630QM Processor, the 12GB DDR3 memory, and the 1.5 GB DDR5 VRAM dedicated to the GeForce GTX 570M graphics chip there really wasn't anything this baby couldn't handle. As an instrument designed to play computer games, this is a triumph.
The MSI GT683DXR-423US took every game I threw at it and kept coming back for more.
In fact the only feature of the MSI GT683DXR-423US that doesn't deserve a thorough tongue bath is the unit's touch pad. I realize that in the history of gaming laptop not one company has managed to create a navigation device as responsive as plugging in an external mouse, but MSI's track pad is a particularly dismal example of compromise. Prone to jerkiness and not particularly pleasant to the touch, this track pad's worst feature is the unibutton, one solid button that works on the teeter-totter principle, meaning the closer you get to the middle of the button the less likely your press will be registered. I despise this style of button consolidation, not being a big fan of trading functionality for form.
Yet even figuring in the cost of a capable external mouse the MSI GT683DXR-423US's $1,649.99 MSRP (you can easily find it for less) is still relatively low when compared to other gaming laptops with similar features. It might not have the biggest screen or the 3D bells and whistles other manufacturers are pushing these days, but with its power and price point it's a mouthful of delicious portable gaming flavor that will last a long, long time.
The MSI GT683DXR-423US is currently available for purchase at many retailers across the U.S. and Canada. Manufacturer's suggested retail price is $1,649.99. Review loaner unit provided by MSI to be returned covered in spit following publication of this review.