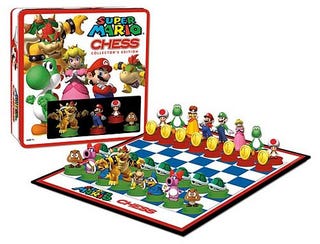 Regular chess not mustachioed enough for you? We'd think that USAopoly's Super Mario Chess—totally Nintendo authorized, by the way—will fit the bill. It features no less than two mustaches!
Toy retailer Entertainment Earth is now accepting pre-orders for the "Collector's Edition" chess board, which is dripping with Mushroom Kingdom characters. The "most popular" Super Mario characters, we're told, including the ultra-popular Coin. They're the pawns, not the more appropriate-as-pawn Toad.
And no Wario? Pfft!
The Super Mario Chess Collector's Edition set ships sometime in April, a perfect complement to your copies of Donkey Kong Jenga and Nintendo Monopoly.
Super Mario Chess Collector's Edition [Entertainment Earth via Gamespy]