On Saturday, Marcus "The Cool Kid93" Redmond fought his way back through the losers bracket in Red Bull Battle Grounds' Street Fighter V last chance qualifier for Capcom Cup, eventually securing himself the first-place trophy and a spot in the North American Regional Finals the next day. Redmond held his trophy aloft for the cheering crowd with tears streaming down his face—but there was a distinctive voice missing from the audience.

The Week In Games: Fishing For Mysteries And Gang Wars
Joy Goodwin, Redmond's wife, has made a name for herself as one of the most vocal trash talkers of the fighting games scene. As soon as her husband had secured his spot in the regional finals, the tournament put her on an overnight flight from Chicago to Boston, knowing that her vocal energy would rev up the crowd during Sunday's finals.
Sunday's bracket kicked off with Redmond facing his most intimidating opponent: Victor "Punk" Woodley, who has held steady in first place on the Capcom Pro Tour rankings all season. Redmond's partner in crime stepped up to the plate, cheering loud enough for the commentators to give her a shout-out on the stream: "Even if Punk was the crowd favorite, but Joy was in the crowd—Cool Kid would be getting more cheering than everybody else."
Redmond lost the match and ended up in the losers bracket again, but his personal hype woman didn't let that slow her roll. During Redmond's next match against Gustavo "801 Strider" Romero, Joy Goodwin got to her feet and roasted her husband's opponent at top volume: "He's nothing! He's such trash! So freakin' pathetic!" Fellow Street Fighter pro Alex Myers posted a video of Goodwin's trash talk during the match, writing, "You are legit fighting two people when you fight Redmond."
G/O Media may get a commission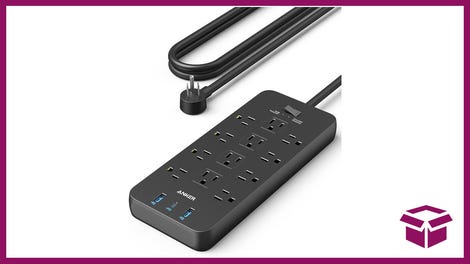 28% Off
Anker Power Strip Surge Protector

Joy Goodwin then moved up to the front row to deliver more jeers and cheers while closer to the players on stage:


After her husband lost this match as well, Joy Goodwin pointed her finger at his opponent, shouting at the top of her voice. Gustavo Romero smiled down at her, good-natured and unperturbed. It soon became clear there was no bad blood between them and the trash talk was all for show. After Romero left the stage, he and Joy Goodwin embraced and made conversation in their seats. When Victor "Punk" Woodley ended up placing first in the tournament, he thanked "The Cool Kid's wife" in his acceptance speech, signaling that he also had no hard feelings.
Joy Goodwin's tough talk feels all the more charming when taken in contrast to her husband's quiet demeanor—the "cool" in "Cool Kid93" is in the calm and focused sense. When he accepted his first-place trophy at the LCQ on Saturday night, Redmond thanked his wife and also God, assuring the audience through his tears, "I've been praying." Redmond never talks trash, either. Whether he wins or loses, he often goes beyond the post-match handshake to offer a hug to his competitor.

Redmond affirmed to Compete that trash talk just isn't his style. "When I'm playing, I don't tell nobody they suck. I just play, shake hands, and I walk off. That's about it. I leave all that to her," he said, smiling at Goodwin, who nodded in agreement. "I have never seen him trash talk anyone," she said. "He doesn't wanna do it!"
Joy Goodwin, on the other hand, delights in surprising everyone with her volume, describing her typical tournament experience as follows: "You walk in quiet, don't say nothing until they start playing, and then you're like, auughhh! And they're like, 'Oh god. What was that? Was that an alarm? Turn it off!'"

Goodwin's screaming doesn't distract Redmond during matches, though. He wears headphones to listen to the game's music and sound effects, so he only hears his wife's voice in brief snippets. When he does hear it? He loves it: "There'd be those times when it's paused, when it gets low, when it gets quiet and I hear something she's saying—and it'd be hilarious."
"They're all good players. But you can never let them know that," Goodwin says, throwing back her head in a playful laugh. "So each one gets their own trash talk. I mean, Punk—he's a nice guy. But his name gave me enough of a fireball right there." (Goodwin decried Punk as a "punk" throughout his matches.) "With the rest of 'em, it kinda freefalls, you know? They get up there, you look at 'em: 'Aw, you're nothin! Your children will be nothing!'"
It's all in good fun, though, hence the hugs offstage. Compete asked Goodwin if she considered all of these pro players to be her friends, and she insisted, "Absolutely. We're all family." And she's a part of that family, too.
"It is a blessing to have her here with me, basically at all the tournaments that I'll be going to," said Marcus Redmond, who tweeted today that he intends to take his cheering partner with him to "every event" going forward. His future opponents will just have to steel themselves for a two-on-one fight.