This past weekend, Compete hosted several Street Fighter pros and commentators at our offices for a public event where fans could sign up to battle against top SFV players. Since we had this all-star roster of Street Fighter aficionados hanging out at our offices, the Compete staff pulled them aside to preview the Nintendo Switch version of Ultra Street Fighter II, which won't be released to the public until May 26. They liked it.
We propped up the Nintendo Switch on a countertop and booted up a local versus match using the two Joy-Con controllers. Setup only took a minute, and the game ran like a charm on the Switch screen.
We tapped Street Fighter commentator James Chen to give the game a look, since he got his start in the scene by competing at Street Fighter II in the mid-90s. This Nintendo Switch version of the game is based on Super Street Fighter II Turbo, which Chen told Compete is his preferred version of the game. The Switch version of the game does have some notable differences from Turbo, such as the addition of grapple breaks, as well as the inclusion of Evil Ryu and the addition of a brand new character, Violent Ken.
James Chen went straight for Violent Ken as soon as he got his hands on the Switch Joy-Con. His opponent, Street Fighter V pro Du "NuckleDu" Dang, said he had never played Street Fighter II Turbo before, although he did claim to have played Street Fighter II at least once. Before the match, Chen pointed out that Street Fighter II came out before NuckleDu was even born. This is no exaggeration: SF2 came out in 1991, and NuckleDu wasn't born until 1996.
G/O Media may get a commission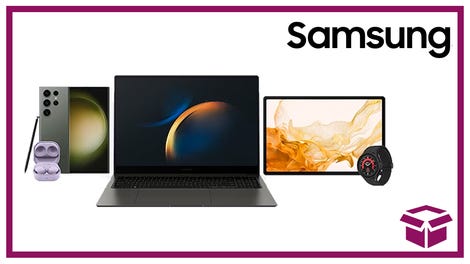 24 hour deals
Discover Samsung - Daily Deal
That could explain why James Chen won so decisively against NuckleDu, who chose Guile. When asked his thoughts about the game, NuckleDu quipped, "Well, I got my ass whooped. But it was pretty cool while it lasted!"
Then, Justin Wong popped by to check out our set-up, exclaiming in disbelief: "This is kinda crazy. You can play Street Fighter II on the Switch!" He stepped up to face off against Chen, and this time, Chen switched characters to Fei Long. Wong gave Violent Ken a try.
While Wong struggled to figure out how to do Violent Ken's anti-airs, Chen reminded him, "I used to play Super Turbo all the time!" Chen won the first round with confidence. But by round two, Wong had figured out his moveset and proceeded to take the next two rounds, showing off one of Violent Ken's super moves in the process:
After his win, Wong commented that the Switch screen setup with the two Joy-Con controllers was "very convenient," even though the two bumpers on the Joy-Con made moves "hard to get right."

"I think the game plays really well on [the Switch]," Wong elaborated, "But with these Joy-Cons, it's really hard to play Street Fighter. It's a six-button game." The Joy-Con shoulder buttons in particular are "really hard buttons," but according to Wong, the four face buttons are "really responsive and easy to do." Wong hadn't yet had the chance to try the Nintendo Switch fight stick, but he did put in a recommendation for the Switch Pro Controller as his current go-to for the system.
Wong also expressed excitement about the changes to the game, adding, "The new characters are really fun, especially Violent Ken. I love Violent Ken! He's so sick." Wong speculates that the addition of Violent Ken will make the game relevant again for new players, because "he's a new-school character. A lot of people, if they're not old school, they can pick up Violent Ken to participate."
Patrick "DaFeetLee" Lee, a Street Fighter competitor from the New York scene, also dropped by to share his thoughts: "I think it looks really great on the Switch, actually. It runs really smooth." He echoed Wong's concerns about the Joy-Con controllers, saying he longed for the "six face buttons" that a stick would provide, but that he found the moves to be easier to execute in this version: "I'm getting all my DPs, which I never get in Super Turbo!"
The most important question of all: is Violent Ken broken? "He's really good," Lee laughed. "He's really, really good."