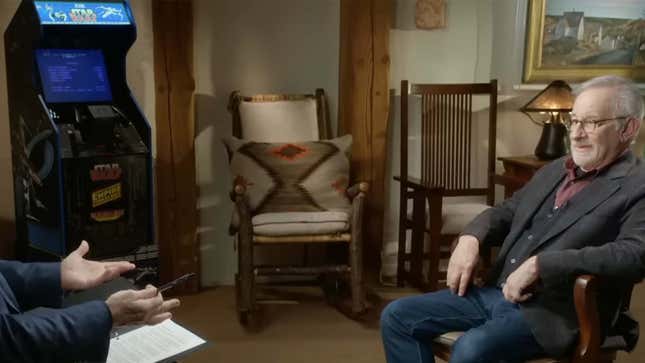 In a recent, wide-ranging interview with late-night host Stephen Colbert, uber-successful director Steven Spielberg talked about his family, his long career, and his love of films. But we aren't here to talk about that. Instead, what's that over there behind you Stephen and Steven? Is that…oh yup. It's a Star Wars arcade cabinet.
Steven Spielberg is the director behind hit films like Jurassic Park, Jaws, and Schindler's List. He's been making films for over 50 years now and is often cited as one of the greatest and most successful directors in history. And as part of the ongoing awards season, Spielberg sat down with Stephen Colbert on the March 2nd episode of The Late Show With Stephen Colbert to chat about many things, but also to specifically talk about his recent, Oscar-nominated film The Fabelmans. And it's a great film. I loved it. However, I was distracted during the interview by an Atari Star Wars arcade cabinet hanging out in Spielberg's Amblin Entertainment headquarters.
A little research reveals the cabinet seen in the video isn't original. Instead, based on the shape and artwork, it appears to be the 1up Star Wars Arcade cabinet that went on sale in 2019. It's not a full-sized cabinet, at only four feet tall, but it does include a riser that makes it taller and easier to play. (You can see the riser underneath the cabinet in the video.) This 1up cabinet collects all three Atari Star Wars arcade games into a playable collection, letting you easily swap between the three via a menu. Today, these games—especially the original Star Wars arcade release—are considered all-time classics. Fun fact: Atari's Empire Strikes Back arcade game came out after its Return of The Jedi game and years after Empire had premiered.

Steven Spielberg's history with video games
Interestingly, because this came out in 2019, it means that this isn't some old cabinet he bought when he was younger, but likely something he bought (or asked someone to buy) recently. That might seem surprising, but Spielberg has long had a connection to video games, even before directing 2018's okay-but-not-great Ready Player One adaptation.
For example, in 1982, he talked about how much he loved playing games like Donkey Kong and Tempest, explaining that these games "massage" his ego and gave him a thrill instantly, unlike making movies. And in 2005, Spielberg was working with EA on a game with the working title of LMNO about an alien woman that you save and help hide during a road trip across the United States. Spielberg requested the game have no gunplay and instead focus on puzzles. That game would eventually get canned in 2010. However, in 2008, Spielberg and EA released Boom Blox, a physics-based party game for all ages that the director created because he wanted more games he could play with his kids.

G/O Media may get a commission
Save all week long
Discover Samsung Event Week-Long Deals
It's fun to see that, even at 76 years old, Spielberg is still playing video games and likes to have them around. Or maybe he keeps that arcade machine in his office to remind himself of all the money he's made off a silly bet between him and George Lucas.