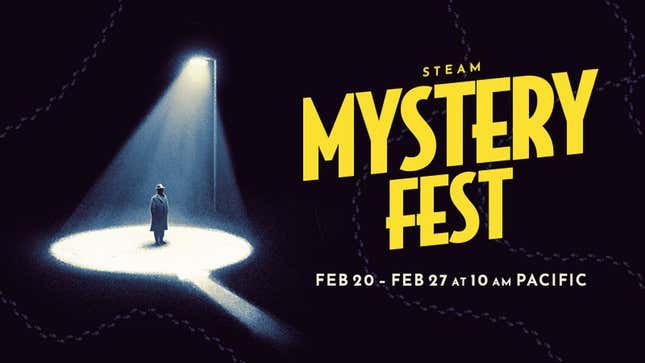 Steam sales are now so frequent that there are concerns they'll soon start crashing into each other, causing vast sale pile-ups that could clog great sections of the internet. However, in amongst the incessant discounts on The Witcher 3 appears something rather more interesting that most: Mystery Fest. It's running from today until the 27th, and we've picked out some of the most interesting games for you to check out.

The reason I'm highlighting this is not because I've suddenly been possessed by the ghostly forces of Kinja Deals, but rather because I love how many fantastic but criminally under-recognized indie games there are in here. So I've gone through and picked out some real highlights that you can now grab at a discount.
This Action Game Asks What If Ninja Gaiden Let Its Hair Down
And yes, certainly the term "Mystery" is woefully unspecific, such that it somehow includes psychological horror, but I've tried to stick to what it should be: investigative games.
Frog Detective 3
Grace Bruxner's Frog Detective series is a thing of undiluted joy. All three games are wonderfully silly, huggably adorable games about being a...frog detective, and will have a dumb smile plastered across your face throughout. The third and most recent (out in October last year) moves things to a Wild West setting, and wraps up the trilogy.
Right now, you should grab all three in a bundle, given it'll cost you just over $13 for the lot.
The Past Within
The Rusty Lake games have been one of gaming's most consistently fantastic series for the last eight years, and absolutely anything the eponymous developers put out is well worth your attention. Their most recent is The Past Within, a co-op game that relies on two people playing at the same time (well, actually, in two distinct times) to be able to solve its puzzles. It's now a third off, just four bucks.
The Case of the Golden Idol
If you're a fan of games like Obra Dinn, then you'd do well to check out the extraordinary The Case of the Golden Idol. It's a mystery adventure in which you need to piece together the identities and actions of a series of characters in a variety of locations, using context clues and an enormous amount of brain power. It's one of 2022's most overlooked games, but 20% off this week, bringing it under $15.
Norco
One of the best games of 2022, Norco got a lot of deserved recognition when it came to end-of-year awards, but always merits more attention. Old-school point-and-click adventures can be a hard sell in these modern times, but Norco is a reason to cast aside such prejudices. This mystery adventure is an astonishing depiction of Louisiana's swamplands, with extraordinarily good writing and art. Also extraordinary is the discount for this week, down a whopping 45% to $8.
Silicon Dreams
A grossly overlooked and utterly brilliant game, Silicon Dreams is a cross between Blade Runner and Papers Please, a game in which you interrogate suspects in order to determine whether they are human or rogue android. As an android yourself, in the process of doing so, you can choose many different ethical paths that dramatically change the outcome of the story. While certainly lacking when it comes to presentation, trust me, this game is so worth your time, and now 30% cheaper.
The Flower Collectors
I must admit, to my chagrin, that until I played The Flower Collectors I had been entirely ignorant of the turmoil Spain went through in the second half of the 1970s, as it emerged from 40 years of fascist rule. What this murder mystery adventure portrays so extraordinarily well is the role played by artists, poets and intellectuals in the transition period, as they fought against the vestiges of nationalism.
Also, you play a retired cop who solves a murder from his apartment window. It's just so impressive how it manages to deliver an engrossing murder mystery, while also asking difficult questions about the possible ways terrorism can benefit a society. You can find out for yourself at half-price this week.
Tangle Tower
Oh my goodness, I adore Tangle Tower. This is one of the best games you've never heard of, featuring some of the best, funniest writing you'll find in gaming. It's a murder mystery that's genuinely intriguing, packed with twists and turns, and rather crucially, it's crammed with excellent puzzles.
I beg you to try this game out. There's so much of it, and every bit is stunning, and it breaks my heart that you might not have heard of it, let alone played it. And in the Mystery Fest, it's 75% off at just $5! JUST GET IT!