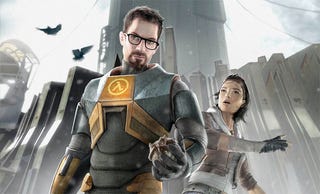 Savings just got ridiculous on Valve's Steam service, with the company practically giving away games like Deus Ex, Half-Life 2, and Borderlands... and actually giving away tons of video games to Steam members on top of that.
Check the official Steam site for "Give & Get" daily deals on the aforementioned games and more, because they'll be regularly changing. Right now, for example, you can own eight copies of Deus Ex for $11.99 or ten copies of Half-Life 2 for $19.99, two deals that will hopefully inspire a great deal of giving this holiday.
If you'd prefer to pay nothing at all for video games, simply load up your Steam wish list. Every day until November 29, Valve will be awarding 30 Steam users with the top five games on their wish lists, as long as you have ten or more items on it.
Steam Give & Get Sale [Steampowered]