You remember zombie game State of Decay? Turns out that at one stage that game was full of dicks. And I'm not talking about the players.
XBLAFans spoke with Geoffrey Card — a designer with the game's developers Undead Labs — at PAX, and he revealed that a bunch of contractors working on the game thought it would be awesome to leave NSFW "calling cards" throughout State of Decay's visuals.
"Some of our contractors worked a ridiculous amount of genitalia into the background."
Because the game was originally released on XBLA, and featured relatively low-res textures, Card says these went unseen and unnoticed be players. It's only when the team were working on a hi-res remake that the dicks apparently became visible, and were quickly removed (there don't seem to be any actual pics of the dicks; the image above is an, ahem, artist's impression).
G/O Media may get a commission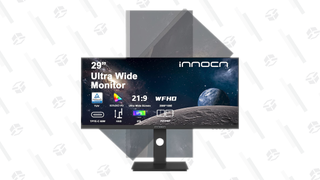 39% Off
Innocn 29" Ultrawide Computer Monitor
Tragically, Card says neither the dicks nor balls were ever seen in a publicly available version of the game. Though it's weird that nobody playing the original PC version of the game ever noticed them...maybe they were still too low-res. Or maybe players were too busy staying alive to notice the background was a kaleidoscope of wang.
Microsoft later issued a statement to Game Informer confirming the removal of the offending cocks.
Undead Labs was not aware of the textures in question until they began the process of exporting textures for State of Decay: Year-One Survival Edition, and they are not visible in the original edition of State of Decay. Undead Labs is no longer working with the contractor in question, and this material will not be present in State of Decay: Year-One Survival Edition.