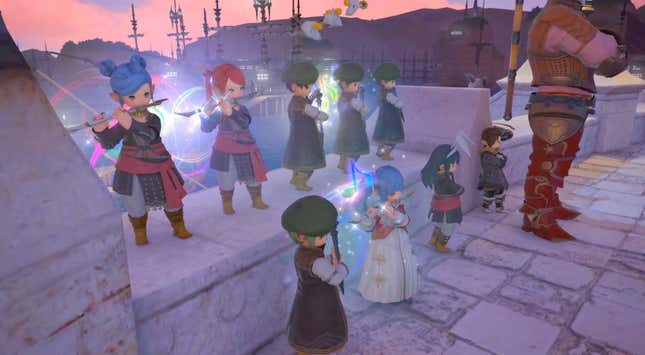 It's not uncommon to hear bards play a tune or two in Final Fantasy XIV. Sometimes that's a light twiddling song on a flute, sometimes that means playing "Megalovania" in the middle of a crowded bar. Last night, I ran into a fantastic impromptu concert. The real world's a disaster right now. Lighten the load with some music.

These Great Fortnite Creative Maps Show Us What's Possible
Bards have been able to play music for a few years now, to the delight and dismay of players everywhere. There are incredibly skilled bards. There's that one guy playing a single "emergency note" in the middle of the market. If you're lucky, you can find full bands of traveling minstrels. That was my luck last night walking in the main square of Limsa Lominsa, one of Final Fantasy XIV's major cities. A small crowd was forming, and a group of impeccably disciplined bards began to play. It was great. Probably one of the best things I've encountered in the game so far.
Final Fantasy Bard Song #1
It started simply with a calm song from Chrono Cross. Chrono Cross is a sequel to the beloved Chrono Trigger, but it has one of the best scores in any game ever made. Yasunori Mitsuda's a masterful composer, and this tune, the music for the alternate-reality island of Marbule, is a perfect piece to chill too. The minstrels played with outstanding coordination and the crowd began to grow accordingly.


Final Fantasy Bard Song #2
The intensity ramped up from there with more JRPG classics. There was "Stab the Sword of Justice" from Star Ocean, and the concert really took off once the bards played "The Man With the Machine Gun" from Final Fantasy VIII. It's not uncommon to hear these songs from time to time, but the bards were the best of the best. Watch it, hear it, enjoy it.

It's a quaint notion that we can avoid the real world's issues by retreating into games. It's true to a point. You can have an adventure, fight a boss, and maybe decorate a house. You can also enjoy a concert. 2020's off to a messy start. Hopefully these tiny, badass bards will start your day right.