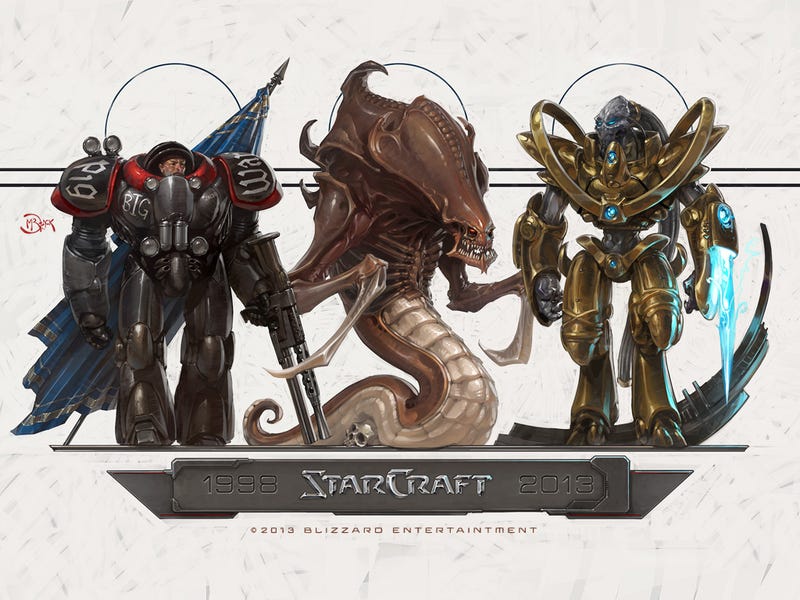 March 31, 1998. StarCraft launched, soon becoming a landmark of the real-time strategy genre and a bulwark of the modern eSports scene. The game turns 15 today, and its publisher, Blizzard, is offering a few goodies to help fans celebrate the anniversary.
Beginning today and lasting until April 17, fans need only to play one (1) game of StarCraft II online to earn a "StarCraft 15-Year Anniversary Feat of Strength" achievement, which unlocks three portraits for use in one's character profile. The portraits are of the original Protoss, Zerg and Terran characters who graced the cover of the first game. The Feat of Strength achievement is awarded to anyone playing the Arcade, Custom, Ranked, Training, Unranked, or Versus A.I. modes online. Campaign, offline custom games, replays and spectating do not count.
Further, that wallpaper above (by Luke Mancini, aka Mr—Jack of DeviantArt) is being offered to everyone as a thank-you. It depicts the Terran Marine, Zerg Hydralisk, and Protoss Zealot from the original game. Larger sizes are available at this link.
Fifteen Years in the Koprulu Sector [Battle.net]