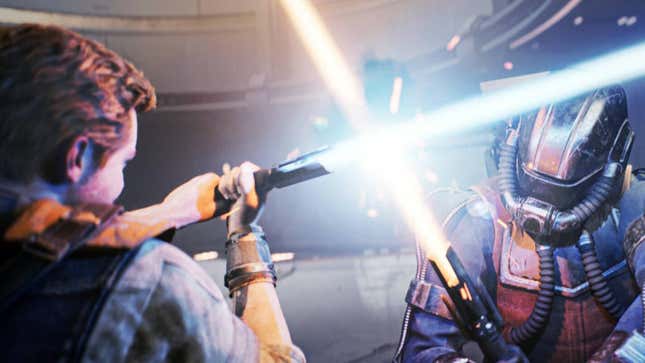 None of the Star Wars Jedi: Survivor ports are doing so hot right now. But reviewers who have been playing the PC version had additional problems with how it performs on their machines. The framerate is neither consistent nor up to standard with what players might expect from a AAA game, compared to console versions (which only saw occasional hiccups).

Lego Star Wars: The Skywalker Saga's Air Combos Make Me Feel Skilled AF
Gaming content creator Skill Up tweeted that PC players should "avoid" Survivor at the time of launch. They were not able to improve the performance by adjusting the in-game settings, and the game struggled to maintain consistent frame rates. They reported getting 40 frames per second on higher-end GPUs and not being able to attain the standard 60 FPS. PC Gamer's reviewer experienced "double digit" framerate drops for going through doors, cutscenes ran at 15-20 FPS, and dialogue would sometimes be cut off or start overlapping with each other, all of which would make for a disruptive experience.
The problem seems to occur whenever the game has to load objects. PC Gamer managed to hit 35 FPS in the open world while playing on a machine with a RTX 2080 Super, i9-9900KS 4.00GHz, and 32GB RAM. So it's not great. However, isolated levels ran at 80-90 FPS. VGC noted that details loaded in while their reviewer was playing, and they were forced to wait as the game populated the level. So the potential is there for Survivor to be a great-looking Star Wars game. It just needs to not shit itself while loading busy levels.
That might be a tall ask. Survivor requires 155 GB on your PC disk, which is massive even by modern AAA standards. EA has promised a day-one patch that would "fix bugs" and "improve performance."
You know the pre-release drill. If you're thinking about nabbing the PC version of Survivor, you should consider waiting to see how the game performs after the day one patch. The game unlocks on April 28 for PlayStation 5, Xbox Series X/S, and PC.