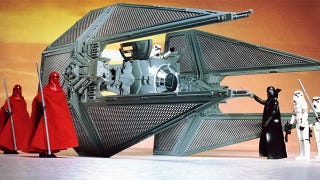 Because there is a hall of fame for everything you can put in a hall, there is of course a National Toy Hall of Fame in the United States. Which this week has inducted perhaps the most popular figures of all time into its ranks.
From a rocky beginning in 1977, when not enough figures were made to satisfy demand (resulting in a now-famous mail-away offer), they've been churned out at a steady pace ever since, a 1990s lull more than made up for by the seventeen billion figures we've seen in the last decade.
The HoF entry is for the entire line of figures, from 1977 to today, not any one series in particular. It's joined this year by dominoes.
For reference, some of the other properties honoured at the New York institute include Hot Wheels, the Game Boy, GI Joe, the kite, cardboard boxes and Mr. Potato Head.
In honour of the occassion, check out these sweet product shots of some original Star Wars figures. These were taken by Kim Simmons, the man responsible for the official promotional photography at the time (so they're the real deal), and you can get them as prints from Kim's website. Click (or open in a new tab) to expand the images.
---