The third day after embarking on a multi-week speedrun of Baten Kaitos: Eternal Wings and the Lost Ocean, a streamer who goes by the name Baffan woke up to continue streaming his attempt only to learn that Twitch had temporarily suspended his account for "non-gaming content."

That's because he had left the game idling all night as he slept. Go to his Twitch page as of the time this story was posted, and you'll be greeted by a message stating, "The community has closed this channel due to terms of service violations."
Speedrunning Baten Kaitos is a unique project given how time passes in the game and what's required in order to 100% it. In Baten Kaitos, items evolve over time, meaning that to get every item in the game, lots of time has to pass in real life. That's why Baffan would let the game idle and then go to sleep.
One particular item, "Shampoo," takes approximately two weeks to turn into "Splendid Hair." As a result, while Baffan can theoretically accomplish almost everything else in the game in approximately 80 hours, he would still need to wait the extra 260 hours or so to get that last item. Instead of waiting all at once, he (quite reasonably) decided to break it up over a few weeks, leaving the game running during the night and for a large chunk of the day to help items like Shampoo on their way to reaching their end state.
G/O Media may get a commission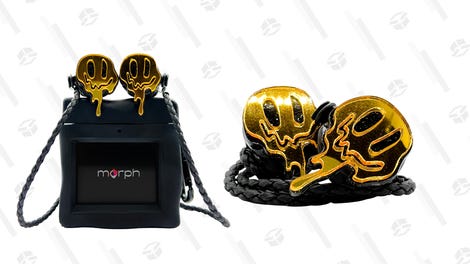 morph audio
Morph Earphones
Unfortunately, the nuances of this were lost on Twitch.
Baten Kaitos is a dense puzzle RPG. That shouldn't be surprising given that Monolith Soft, creators of the bloated, inscrutable, but ultimately charming Xenosaga series helped create together with tri-Crescendo. Kotaku alum Patrick Klepek recently reported on speedrunning the game in detail, including how Baffan came to hold the world record for completing everything in the game the fastest.
Baffan had timed his most recent attempt to break his own record so that it would end just before Christmas, and was planning on streaming the entire saga through Twitch in order to share the experience with whoever in the gaming community was interested. What he didn't count on was the powers that be swooping in an disabling his channel for lack of game content.

But Baffan isn't holding a grudge, explaining in a series of tweets why Twitch is technically right. "Don't get me wrong, I completely accept this 24 hour suspension, it's ok for me. I just expected a different kind of warning," he said. Another streamer, Nikita Buriak , disagreed though, tweeting back, "Quite a topic to argue about though. It's ingame waiting for completing ingame stuff - how's that non-gaming content?"
"There is nothing to say, really," said Baffan when I spoke to him directly. "It's only a 24 hours suspension, I will simply stream on Hitbox for today, and starting tomorrow I will stream the gameplay back on Twitch, and the 'sleeping' on Hitbox."
The inability to stream the "idle" parts of the run on Twitch doesn't affect his time, just the ability to share the totality of the experience, good and bad, exciting and boring, with everyone else.
But why is Baffan attempting a fifth run at the game, let alone a sixth he has planned for sometime in the future? How many times can you play through, let alone speedrun, a 300+ hour GameCube epic?
"Because this game is fun!" he wrote in an FAQ about the project. "And streaming something for 2 weeks is incredibly funny, people are very supportive. In the end, it's simply that I enjoy this a lot, and that what matters after all."At this point, playing Baten Kaitos is like riding a bike he said. "you never forget it."