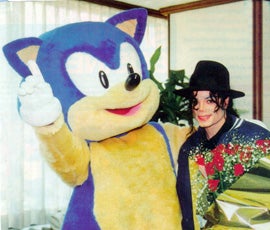 Bad news for those hoping to purchase a piece of Michael Jackson's arcade collection. Julien's Auctions was planning to sell off various Neverland Ranch possessions owned by the gloved one. Keyword is was.
"The auction isn't going to take place," said auctioneer Darren Julien. "We wanted to reach an agreement (with Jackson) and we have reached one today that is mutually acceptable and beneficial." Jackson will retain ownership of the Collection of Michael Jackson, which will continue to be on display in Beverly Hills until April 25.
The Collection of Michael Jackson auction, which featured 1,400 personal artifacts, was cancelled after Jackson's production company sued the auction house to halt the sale. Jackson filed, demanding the return of specific items. Among the things slated to be auctioned off were the glove worn in "Billie Jean", Jackson's red gilded throne, his Rolls-Royce stretch limo, a portrait of Jackson as Peter Pan and a ton of arcade hardware.
This arcade game collection includes Jambo Safari, R360, Mortal Kombat, Tekken 2, Guitar Freaks, Galaxy Force II, Ms. Pac-Man, Super Street Fighter II and two versions of Crazy Taxi. The arcade cabinets alone occupied 60 pages of the auction catalogue!
In 2005, Jackson moved from the expansive Neverland Ranch after being acquitted of child abuse. Part-ownership of the Neverland Ranch was sold last year due to the singer's financial woes.
Michael Jackson auction canceled, exhibit continues [Reuters via BBC] [Pic]