The price difference between the PSP-3000 and the PSPgo? In Japan, about a hundred bucks. But, no sweat, Sony's not worried.
When asked if there was concern that the price gap between the PSP-3000 and the PSPgo would push Japanese consumers towards the less expensive PSP-3000, Sony Worldwide Studios head Shuhei Yoshida told Kotaku, "That's fine. We have no intention to stop producing the PSP-3000."
As the company's continued support of the PS2 has shown, Sony is not one to kill off older hardware — especially when there is still a market for it, as there is in The Land of the Rising Sun.
The UMD format will continue to be produced by Sony, Yoshida said. "New games will be released in both UMD and digital formats," he added. Those who own a PSP-3000 will be able to pick up the hard copy, while those with the PSPgo can purchase the digital version. "However, some small games aren't getting a UMD release," Yoshida conceded. According to Sony, the major titles will be getting released on both platforms — take the upcoming Gran Turismo on the PSP, for example.
While digital and UMD formats provide a sharp divide between to the PSP-3000 and the PSPgo, Sony did explore ways to enable users to bring their UMD titles to the PSPgo.
G/O Media may get a commission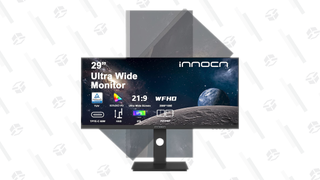 39% Off
Innocn 29" Ultrawide Computer Monitor
"We seriously looked into solutions," Yoshida said. As Kotaku broke earlier, legal and technical issues regarding publishing and rights have prevented Sony from bringing that UMD solution to market.
"We will continue supporting the UMD format," Yoshida stated.