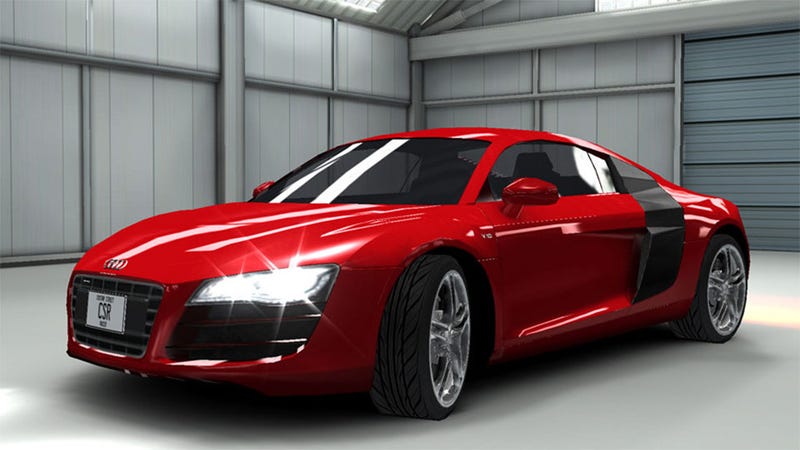 Grabbing social gamers by their dangling music nostalgia glands, SongPop tops Facebook's list of the top 25 web-based and mobile social games of 2012. It also makes for a lousy top image, so I went with number 14, NaturalMotion's CSR Racing, instead. Pretty car.
Using a mystical combination of App Center star ratings, negative and positive user signals and engagement numbers between January and November, Facebook has compiled a rather diverse list of games in this year's top 25. Sure, it's got the requisite six Zynga games on it, but there's also a racing game, a little baseball and a mid-core dungeon romp. The times, they are a-changing.
Check out the full list below. Just don't try playing all of these, as they represent more lost productivity hours than your entire lifespan.
1. SongPop (FreshPlanet)
2. Dragon City (Social Point)
3. Bike Race (Top Free games)
4. Subway Surfers (Kiloo)
5. Angry Birds Friends (Rovio)
6. FarmVille 2 (Zynga)
7. Scramble with Friends (Zynga)
8. Clash of Clans (Supercell)
9. Marvel: Avengers Alliance (Playdom)
10. Draw Something (Zynga)
11. Hay Day (Supercell)
12. Baseball Heroes (Syntasia)
13. ChefVille (Zynga)
14. CSR Racing (NaturalMotion Games)
15. Candy Crush Saga (King.com)
16. Matching With Friends (Zynga)
17. Legend Online (OASIS GAMES)
18. Jurassic Park Builder (Ludia)
19. Dungeon Rampage (Rebel Entertainment)
20. Pockie Ninja II Social (NGames Limited)
21. Jetpack Joyride (Halfbrick)
22. Social Empires (Social Point)
23. Bil ve Fethet (Peak Games)
24. Ruby Blast Adventures (Zynga)
25. Pyramid Solitaire Saga (King.com)