A warrior named "Forty-Five" is SOCOM 4's answer to stealth, a South Korean covert operative that can sneak up on enemies or take them out from afar. Park "Forty-Five" Yoon-Hee is also the game's only playable female character. But it's because of her stealthy abilities that Forty-Five gets a couple of her own trophies.
Played on the Playstation 3, you can earn two special trophies for skilled play as Forty-Five:
Silver
Covert Ops – As Forty-Five, successfully maintain stealth in a Story Campaign mission
Gold
The Elite 45th – As Forty-Five, stealth kill a total of 45 enemies in the Story Campaign
Neat idea, giving gamers a reason to play one of the proto-shooters as a stealth game.
G/O Media may get a commission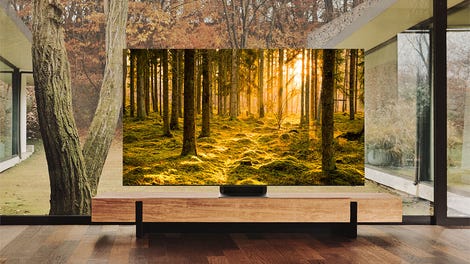 Up to 40% off
Samsung Smart TVs
Here's a rundown of the full trophy list:
Bronze
Elite Ops – Complete a Story Campaign mission on Elite Difficulty
N00b – Complete a Competitive Multiplayer game
Good Game – Complete a Competitive Multiplayer game of every gametype
Combined Assault – Complete a Custom Campaign mission in Co-op
Extra Credit – Complete a Custom Campaign mission in Single-player
Government Spending – Call in a total of 10 airstrikes during your career
Death From Above – Eliminate 5 enemies with a single airstrike
Repo Man – Destroy a total of 50 vehicles during your career
Unseen Strike – Stealth kill a total of 10 enemies in a single mission
Grenadier – Eliminate a total of 25 enemies with explosives during your career
Crowd Control – Eliminate 3 enemies with a single explosive
Century Slayer – Eliminate a total of 100 enemies during your career
Melon Hunter – Eliminate a total of 100 enemies with a headshot during your career
Hat Trick – Eliminate 3 enemies in a row with headshots
Vorpal – Eliminate a total of 25 enemies with melee attacks during your career
Combat Medic – Execute a total of 25 teammate revives during your career
Armed to the Teeth – Unlock all weapons for use in Campaign Mode
I Call Her Vera – Master a weapon in any mode
Oracle – Collect an Intel item in a Story Campaign mission
Hidden Trophies (15)
Silver
Covert Ops – As Forty-Five, successfully maintain stealth in a Story Campaign mission
Over Achiever – Complete a Custom Campaign mission on every map in either Single-player or Co-op
Millennial Slayer – Eliminate a total of 1000 enemies during your career
Expert Tactician – Complete a Story Campaign mission using only your teammates to eliminate enemies
Information Warfare – Collect all Intel in the Story Campaign
Hidden Trophy (1)
Gold
Best of the Best – Complete the Story Campaign on Elite Difficulty
Above and Beyond – Complete a total of 100 objectives during your career
Shiny! – Master a weapon of each class in any mode
The Elite 45th – As Forty-Five, stealth kill a total of 45 enemies in the Story Campaign
Platinum
All is Said, All is Done – Obtain all Bronze, Silver, and Gold Trophies in SOCOM 4
SOCOM 4: The Trophies [Playstation Blog]