Grammy-Award nominated rapper and man-about-Hollywood Snoop Dogg just landed a new MTV-aired variety with benefits.
The benefits? He's also going to be releasing songs from his "impressive catalog of hits" on Rock Band.
The TV show, called Dogg After Dark, will feature interviews, sketch-comedy and musical performances. It has been picked up for a seven week run on Tuesdays and will also feature Dogg's in-house band, the Snoopeadelics.
"When Van Toffler and I sat down Boss to Boss, a global quintuple threat takeover was masterminded. As the world of entertainment keeps changing, we felt it was the right time to let Snoop Dogg back on MTV so we could continue to run thangs with music, movies, DVDs and bring Hip-Hop to Rock Band." said Snoop Dogg. "So screw ya wigz on tight and tune in on Tuesday nights for the first step to the next level of Snoop D-O double G. Dogg after Dark is the only nightclub tv show hosted by you know who. So take a journey with me through the mind, body, soul and musical mindstate of the most prolific, authentic game spitter. And tha sh*t is funny, so show me da money!"
Unfortunately, while the release goes into quite a bit of detail about the show, it doesn't say much at all about the Rock Band deal.
G/O Media may get a commission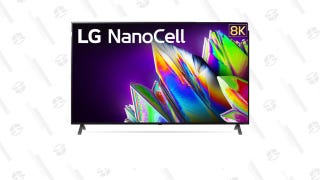 LG 75-Inch 8K TV
MTV AND SNOOP DOGG GET DOWN TO BUSINESS; UNPRECEDENTED DEAL CROSSES THE GLOBE WITH TV, ROCK BAND® AND NEW MUSIC [Thanks to everyone for the heads up]